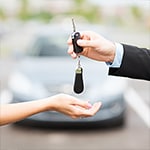 Even when a particular used car has a lot of miles, the vehicle may have many more years of performance left. Researching the reliability and capability of a make and model does help you make the right purchase. Keeping an appropriate budget in mind also cuts down on wasting time and effort. And there are additional smart shopping steps to take.
Review as much info about the used car before you decide to buy. If there is a VIN report, read it to determine the service history and if the report reveals any accidents. Look over the number of owners as well.
Don't be shy about negotiating the sale. Perhaps those skills are worth practicing, as you want to get the best deal. Be flexible, and have a realistic purchase price in mind.
And get ready to enjoy yourself on the test drive. At Baierl Subaru, we know you'll have fun trying out some great used cars around Pittsburgh.