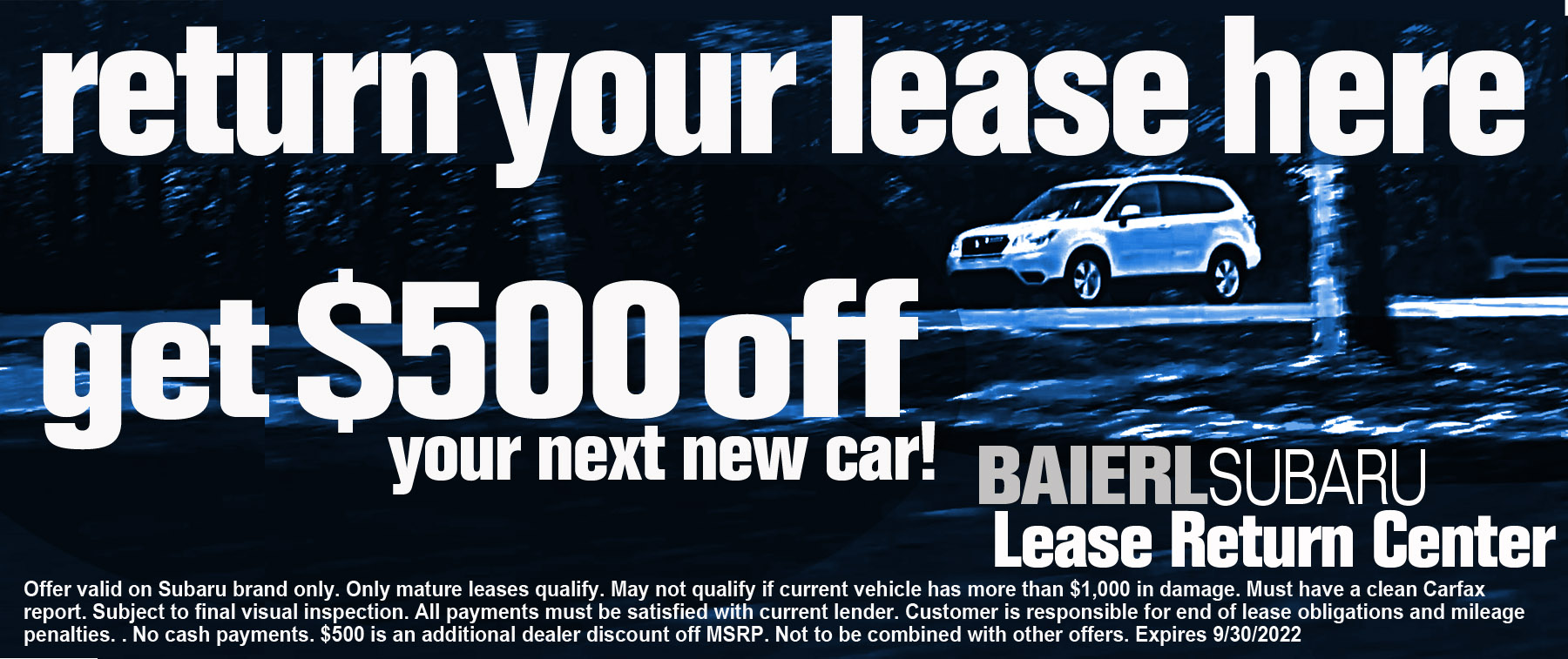 Got Lease Return Questions? Contact the Lease Return Center at Baierl Subaru
If you have a Subaru lease agreement that is close to ending, you might be starting to have some questions about what you are going to do next. For may folks, the end of a car lease is filled with a mixture of excitement and stress. You may know that that you have a lot of options, but have no idea how to end your lease successfully. As your Subaru dealer near Cranberry Township, PA, Baierl Subaru, located at 9545 Perry Highway in Pittsburgh, PA, we are proud to be the place for all of your lease-related concerns.
Since we are a premier Subaru dealer near Wexford, PA, we can assist you with the end of your Subaru lease, even if you didn't originally lease your Subaru model with us. You can also contact us even if your lease isn't from the Subaru brand. We accept any make or model.
SCHEDULE YOUR LEASE RETURN
Make an Inquiry
* Indicates a required field
Baierl Subaru is Where You Can Learn About All of Your Lease-End Options
Are you doing your daily commute to Gibsonia, PA and wondering what your lease-end options might be? It can cause a lot of anxiety to not know about your choices. Luckily, the lease return center at Baierl Subaru is here with all of the answers you seek. When it comes to the end of your Subaru lease, you will have four choices:
---
At the appointed time:
Deliver your vehicle in clean condition to Baierl Subaru. Please bring the following items with you:
Two keys to the vehicle
Owner's Manual
Vehicle Inspection Report
Please ensure all original equipment and accessories are in / on the vehicle when returned.
Buy the Subaru Vehicle You Are Currently Leasing
Your Subaru car, hatchback, or SUV has served you faithfully for a few years. There is the chance that you may not want to bring the vehicle back when your lease agreement expires. If you want to keep driving your leased Subaru vehicle through the streets of Allison Park for many years to come, the team at Baierl Subaru can help. Our finance center can guide you through the process of buying your leased Subaru model for the residual amount.
Lease a New Subaru Model from the Team at Baierl Subaru
Did you love your leasing experience? Many people do fall in love with the benefits of this financing option. If you enjoyed your Subaru lease period, you can always lease a new Subaru vehicle. Our dealership has a wide selection of new Subaru models in stock, including all of the fan-favorites. The Subaru Legacy, Outback, Crosstrek, Impreza, Forester, WRX, and Ascent are all models you will find on our lot when you make the trip from nearby Glenshaw, PA. Additionally, our finance center can assist you with all of the current lease deals being offered.
Buy a Vehicle from Our New or Used Inventory
There are some folks that aren't well served by a lease agreement. Whether you now drive many miles, or you just want to own your vehicle for a long time, you may want to buy your next vehicle instead of leasing it. At Baierl Subaru, you can choose to buy something from our new or used inventories. We have many new Subaru models, as well as a huge selection of pre-owned vehicles. Our used inventory has many of the top makes and models in the automotive industry represented. You can also find used cars for sale under $15,000 because we want to have choices for every budget.
New Subaru Inventory
Turn in Your Vehicle
It is possible that none of these options are right for you. If that is the case, you can always drop off your keys. Our lease return center can help you with dropping off your vehicle. We will ensure that you don't miss any steps along the way. Our dealership makes your lease return an easy process.
Let Baierl Subaru End Your Lease Successfully
Baierl Subaru, in Pittsburgh, PA, is your home for everything related to leasing. Contact our lease return center today to learn all about your options and have a successful end-of-lease process.