The 2021 Subaru Love Promise Customer and Community Commitment Award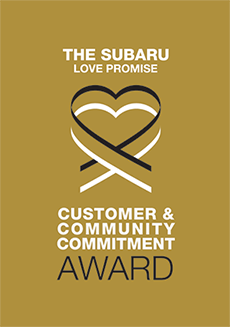 We've been nationally recognized for our dedication to our customers, our community, and the Subaru Love Promise.
We're honored to receive the 2021 Subaru Love Promise Customer and Community Commitment Award. This award nationally recognizes elite Subaru retailers who provide an exceptional customer experience at every interaction with Subaru. These retailers have also demonstrated an outstanding commitment to supporting passions and causes in their local communities in important areas such as the environment, community, health, education, and pets.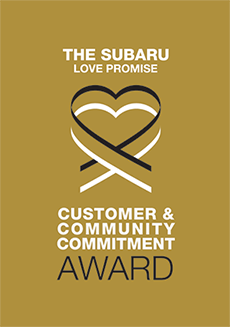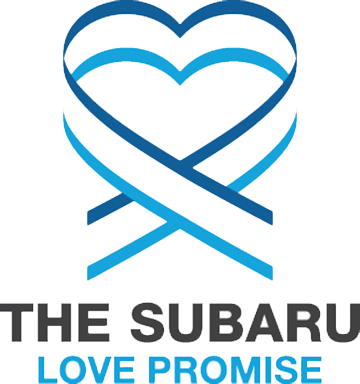 What is the Subaru Love Promise?
Subaru and our retailers believe in making the world a better place and the Subaru Love Promise is our vision of respecting all people. This is our commitment to show love and respect to our customers and to work to make a positive impact in the world.
How is Baierl Subaru dedicated locally to the Love Promise?
Baierl believes in creating better communities. It's why we support numerous charities and philanthropic efforts throughout our region. In recent years, Baierl has made substantial contributions to the University of Pittsburgh for the Baierl Recreation Center, the Baierl Family YMCA, the Baierl Cancer wing at Passavant Hospital, the Sarah Heinz House and most recently LaRoche College. We also support a variety of other causes such as the North Allegheny Baierl Center, Imani Christian Academy, Cranberry Township Community pool, Pine Township Community Center, North Hills Youth Ministry and many more great charities. We enjoy being part of the community and supporting so many incredible causes that make our home a better place.
Southwest PA Retriever Rescue Organization
Carnegie Museums, Sarah Heinz House, La Roche College
Baierl Family YMCA, Boys & Girls Clubs of Western PA, Cranberry Twp Community Pool, Pine Twp Community Center
Baierl Cancer Wing at Passavant Hospital, University of Pittsburgh Baierl Recreation Center
Love Promise Stories from Baierl Subaru
Subaru and Baierl Subaru believe in making a positive impact on the communities in which we live and work. We uphold that belief through our Love Promise Community Commitment. Every month, we select inspiring stories from customers and partners from around our area who strive to support our collective commitment and feature them here
Baierl Impacts 12,000+ Youth with BGCWPA - Abby B
Baierl Subaru is COMMITTED to local youth. As a premier partner of Boys & Girls Clubs of Western Pennsylvania, Baierl helped to raise critical funds for over 12,000 youth as the title sponsor of the 44th Annual Nellie King Golf Classic held on June 7, 2021. The largest Summer Camp fundraiser of the year, the Nellie King Golf Classic raised over $113,000 to bring quality programming to youth, families and communities in 14 Summer Camp locations across Allegheny and Somerset Counties, of which 75% of the youth come from single parent households and 70% are eligible for free and reduced lunch. Baierl's commitment supports Clubhouse members like Dominic. Dominic was born with hearing loss and received cochlear implants at the age of 2. Thanks to supporters like Baierl, Dominic can learn, grow, and have FUN at the Boys & Girls Clubs of WPA Carnegie Clubhouse. In the words of Dominic's mother, "The Clubhouse has been a very warm and welcoming place for Dominic and our family. Dominic doesn't hesitate to run in the door and join in on the fun! At the Clubhouse, he can just be a kid, something every mother loves to see."BGCWPA would like to thank Baierl Subaru for helping to activate and advance the potential in every child by doing whatever it takes to ensure they have great futures!
---
McKeesport Drive-Up Food Distribution - Michelle M
On May 15, 2021, Bairel Subaru, along with other Subaru retailers, volunteered at Greater Pittsburgh Community Food Bank's drive-up food distribution in McKeesport. Their support of the Food Bank's mission and service allows us to provide access to healthy, nutritious food to families and individuals across Southwestern Pennsylvania. Drive-up distributions occur all over the greater Pittsburgh area and provide each family with 30 to 50 pounds of food. Every car the volunteers served represented one or more families from the McKeesport area who may rely on this monthly distribution for food support. Subaru helped serve 165 cars, who picked up 360 shares of food. In total, volunteers distributed 11,000 pounds of food. It is thanks to your efforts that we are able to continue to meet the need of individuals in McKeesport and surrounding areas who need food assistance.
---
Baierl Subaru Share the Love!!! - Lauren M
The 2020 Share the Love event at Baierl Subaru was an enormous success! On April 16th, 2021, Lee Baierl and Jim Lokar presented the Boy's and Girl's Club of Western PA a check for $36,910.00. Dr. Lisa Palmieri, the President and CEO of the Boys and Girls Club, was on hand to accept the donation during the official check presentation. The Boy's and Girl's Club of Western PA provides high quality after school, summer, and career work programs to several thousand youth children across the Pittsburgh metro area. The programs offer crucial life skills and education in a supportive learning environment for all. Annually, Baierl Subaru participates in the National Subaru Share the Love event in an effort to support the community and become more than a car company. Thanks to everyone involved. It truly was an amazing event and the dollars are going to an incredible foundation!
---
Nellie King Golf Classic - michael g
Baierl Subaru donated $25,000.00 to the Boys and Girls Club Nellie King Golf Classic! The event was held at Sewickley Heights Golf Club on August 24th, 2020. The Boys and Girls Club of Western PA provides high quality after school, summer and career work programs to several thousand youth across the Pittsburgh Metro area. The programs offer crucial life skills and education in a supportive learning environment for all. Thanks to Baierl Subaru for your Title Sponsorship donation benefiting the Boys and Girls Club. Your continued partnership is amazing!
---
Blanket to Wood Street Commons Homeless Shelter - Michael G
Yesterday, November 11th, Baierl Subaru donated 80 Blankets to the Wood Street Commons Homeless Shelter in Pittsburgh PA. The donation was in recognition of National Homeless Youth Awareness Month. In total, Subaru of America and its retailers donated 50,000 blankets to nearly 600 local homeless shelters across the country. Subaru Loves to Help! Baierl Subaru loves to help too!
---
Subaru Loves Pets 2020! - Michael G
This year Baierl Subaru's Pet Adoption Event was held on Saturday October 24th, 2020. Baierl Subaru was able to donate towels, chew toys, bleach, paper towels and dog treats to our long-time partner S.P.A.R.R.O. (Southwest Pa Retriever Rescues Organization). On top of that, Baierl Subaru was able to donate $100.00 for Every Dog adopted in the month of October. As you can see, S.P.A.R.R.O. brought their trusty side kick with them to the event. We want to thank everyone that came out and made it a success! Subaru Loves Pets!
---
Light the Night Walk 2020 - michael g
On October 17th 2020. Baierl Subaru joined in the Light the Night Walk sponsored by Subaru Share the Love benefiting the Leukemia & Lymphoma Society. Our team consisted of Garrett Goss as the Captain, Kari King, Michael Salati and Nick Abraham. Together they raised $1,080.00 for the Leukemia and Lymphoma Society.
---
Leukemia & Lymphoma Society Light the Night Walk - Michael G
A Love Promise Story, the Leukemia & Lymphoma Society Light the Night Walk October 2020. Thank you to all who came out to sign the 2020 wrapped Subaru Outback. An a special thank you to Jean Deisch for being our survivor representative and sharing your story at Baierl Subaru. This event was open to everyone we had several Owners, new customer and employees sign and write messages of hope on the 2020 wrapped Subaru Outback.
---
Baierl Subaru Loves Learning - Lauren M
Lee Baierl and Jim Lokar with Baierl Subaru donated approximately 150 books to Quaker Valley Elementary Schools on Monday, September 30th as part of the Subaru Loves Learning program. The books were donated by Baierl Subaru and small personalized notes were given by their customers. Each of the books donated featured of a STEM (Science Technology Engineering Mathematics) theme. Book title suggestions were provided by Edgeworth Librarian Mrs. Gabriella Miller. Thanks so much Baierl Subaru!
---
Baierl Cares: Comforting Cancer Patients - Breanna S
Baierl Subaru wants to show local cancer patients that they aren't alone in their fight against this terrible disease. So for the fourth straight year, Baierl partnered with The Leukemia & Lymphoma Society (LLS) on their month-long "Subaru Loves to Care" campaign. On June 27, Lee Baierl, the dealership's General Manager, had the opportunity to deliver blankets to patients receiving treatment at UPMC Hillman Cancer Center at UPMC Passavant in Pittsburgh. Baierl Subaru generously donated 80 blankets to the facility along with 70 messages of hope written by Subaru customers, meant to inspire these patients throughout their battle. The UPMC Passavant staff was thankful to receive these blankets because they're so useful for patients who get cold during treatment. Some of the patients Lee visited were already wrapped up in blankets that they'd brought from home. Not only were they thrilled to have a new blanket that they can keep just for treatment, but they truly appreciated knowing that someone else cares about what they're going through. LLS owes a debt of gratitude to everyone at Subaru of America and Baierl Subaru for making this program possible. Thank you for joining us in our mission to cure blood cancers and to improve the lives of patients and their families throughout our local communities.
---
Baierl Subaru Employees Volunteer at iBike@QV - Jason H
Lee Baierl and his team at Baierl Subaru (Jim, David, Nick, Adam, & Jennifer) volunteered at iBike@QV the week of June 17-21. iBike@QV is a bike camp for people with special needs hosted by Quaker Valley School District and operated by the non-profit, iCan Shine. Since 2007, iCan Shine and its' dedicated volunteers have taught over 20,000 individuals with special needs to ride a conventional two-wheel bicycle. The volunteers from Baierl Subaru provided quality learning opportunities for two riders in particular, Chris and Allyse, and developed meaningful relationships throughout the week, empowering the riders and promoting inclusive practices. The volunteers worked for five days to encourage the riders, maintain the riders' interests, excite the riders about riding a bicycle, and run alongside the riders as they learned to ride. This is the third year that Lee Baierl has volunteered and represented the Baierl Automotive Group at this camp. Baierl Subaru deserves significant recognition for their time and efforts that they devoted to Chris, Allyse, and the entire iBike@QV team (shown in third picture). Thank you, Baierl Subaru, for your commitment to helping others, your devotion to the community, and your promotion of inclusion for all individuals! First picture L-R (Nick, David, Chris, Lee, & Jim) Second picture L-R (Adam, Allyse, & Jennifer) Third picture L-R (Jason, David, Jenna, Nick, Lee, Jim, Chris, Adam, Allyse, Jennifer, Brenden, Gino, Eli, Cole, Jenna, Genna, & Steven)
---
Baierl Subaru Loves Pets - Joe M
This October, Baierl Subaru supported the Southwest PA Retriever Rescue Organization and Shades of Grey Sanctuary for the Subaru Loves Pets Event. They hosted an on-site pet adoption event with adoptable dogs and Tiny Cause, a non-profit whose proceeds from homemade treats go to no-kill shelters. Throughout the entire month of October, customers and employees collected donation items to help support SPARRO and the animals they care for.
---
Baierl Subaru Donates Books to QVSD Schools - Lauren M
Students at Edgeworth and Osborne Elementary Schools in the Quaker Valley School District received dozens of brand new books and school supplies on October 3, 2018. The books were donated by Baierl Subaru, the customers, and staff. Baierl Subaru's General Manager, Lee Baierl, and General Sales Manager, Jim Lokar personally delivered all of the books to Osborne principal, Mr. Aaron Rea and Edgeworth principal, Mrs. Carol Sprinker. Baierl Subaru partners with local schools each year to provide books and school supplies through their annual "Subaru Loves Learning" program. We are so grateful for Baierl Subaru's commitment to children and their learning! Pictured left to right - Aaron Rea, Jim Lokar, Lee Baierl, and Carol Sprinker.
---
Baierl Donations Help Passavant Cancer Patients - Breanna S
Patients at the UPMC Hillman Cancer Center at UPMC Passavant on June 27 were overjoyed to receive a surprise courtesy of Baierl Subaru. The dealership distributed 80 blankets as well as uplifting care card messages handwritten by Baierl's customers and staff. Baierl Subaru's General Manager Lee Baierl and Internet Sales Manager Mike Goessler worked with staff members from the UPMC Hillman Cancer Center, Passavant Hospital Foundation, and The Leukemia & Lymphoma Society (LLS) to "share the love" with patients in the Cancer Center. Lee and Mike personally handed blankets out to men and women receiving treatment and took the time to get to know them one-on-one. One man was finishing his in-patient treatment that very day and was excited to be going home. A woman was touched and pleasantly overwhelmed to have so many visitors! Everyone was thankful for their care card and a blanket. This is the third year that Baierl Subaru chose to partner with LLS to help make treatment a little easier for local cancer patients through their annual "Subaru Loves to Care" program. Baierl deserves recognition for their continuing partnership with LLS, and they have our gratitude for bringing hope and warmth to cancer patients in the Pittsburgh area. Pictured (L-R): Jen Miller (LLS), Anthony Savannah (Passavant Hospital Foundation), Kayla McGrath (LLS), Libby Shumaker (UPMC Hillman Cancer Center at UPMC Passavant), and Lee Baierl (Baierl Subaru).
---
Baierl and Carnegie Exhibitions - Kate S
Baierl sponsored some of our greatest family friendly exhibitions like our Amazing Butterfly exhibition that featured an indoor maze for children to learn about the life cycle of a butterfly as well as expend some extra pent up energy during the winter months. Again this year, Baeirl Subaru is planning to partner with us to bring a family favorite blockbuster to the people of Pittsburgh--Reptiles. Thanks Baierl!
---
Subaru's Amazon Adventure - Constance G
Baierl Subaru's support of the movie Amazon Adventure showing at Carnegie Science Center's The Rangos Giant Cinema has helped to provide this amazing true story of exploration and discovery to thousands of children and families. The children leave the movie inspired and encouraged to ask questions, solve problems, and embark on their own adventures that some day may lead to solving environmental, medical, or technological challenges that we all face.
---
Baierl Subaru Loves Learning (and Science)! - Amber T
A very special thanks to all our customers who bought a vehicle in August during our #SubaruLovesLearning event. We were able to donate 150 award-winning AAAS science books to Rowan Elementary School in your name!
---
Baierl Brings Warmth, Hope to Cancer Patients - Breanna S
Baierl Automotive is well-known for their philanthropic ties to the Western PA community, so it was no surprise when they stepped up to the challenge of making cancer treatment more comfortable for local patients. For their annual "Subaru Loves to Care" event, Baierl Subaru partnered with The Leukemia & Lymphoma Society (LLS) to donate blankets to 80 patients at the Baierl Pavilion cancer center at UPMC Passavant. All of the patients were excited and appreciative for this surprise gift. This simple gesture went a long way toward making chemotherapy a little more bearable for them. One patient, Judith Moellenbrock, wheeled her IV pole out into the hallway with a smile to thank William Baierl, the dealership's Executive Manager. In addition to the blankets, Baierl Subaru provided 10 arts and crafts kits for children who are at the cancer center either accompanying a family member to treatment, or who are battling the disease themselves. Baierl Subaru's support means so much to LLS, as well as the patients and families we serve. Thank you, Baierl, for being such an outstanding community partner. Pictured: William Baierl, Judith Moellenbrock, and Elizabeth "Libby" Shumaker, Director of Clinical Operations, UPMC CancerCenter at UPMC Passavant.
---
Subaru and NWF Love the Earth! - Lori W
Our Garden of Wishes held time capsules full of students' written wishes for the school year. As the school year was ending, our wishes were dug up and the earthen holes were replanted with pollinator plants received from Baierl Subaru and NWF. Students think this new pollinator garden will definitely make some wishes come true - for people and animals and all wildlife! One of Falk School's guiding wishes is: We want our students to have a reverence for nature. So all students, k-8, spend time exploring, relaxing, and working in our habitat restoration project known here as FALK WOODS.
---
Pennsylvania's Best 2015 - bob s
Baierl Subaru continues (in our minds) to be an excellent representative of what Subaru is all about. We are repeat customers even though a large volume dealer is half the distance away from home, and that should tell you something. Subaru continues to be the most progressive and customer oriented car maker one could hope for. We feel among the most privileged to be part of the Subaru family...
---
Subaru Loves Learning Book Drive August 1 - 31 - Danielle S
Join us in our Subaru Loves Learning initiative during the month of August! We are partnering with the American Association for the Advancement of Science (AAAS) in donating science books to Rowan Elementary School and Haine Elementary School in the Seneca Valley School District. All of the books that will be donated have been recognized by AAAS as some of the best science books in their field. Contact us to learn more information.
---
How things have changed - David E
First: Buying a new car was NEVER going to be on our bucket list. It was considered comparable to buying a sweeper from a traveling salesman. We've heard all the lines before, "You got to buy now, this price isn't good tomorrow." Oh how things have changed. Frank at Baierl Subaru in Pittsburgh changed all that 2 minutes after we walked in the door. The certified used Outback that we found on their web site was sitting on the show room floor that night. Frank walked over and said, "If you like this deal,(and we did) I've got an even sweeter deal your gonna love sitting outside" He nailed it. 30 minutes later my wife and I were signing papers for a 2015 Subaru Outback with everything we were looking for and even the color. For the first time in our lives, Frank made that experience enjoyable, exciting and rewarding.
---
Subaru Loves the Earth - E-Waste Event - Danielle S
We would like to thank our customers for participating in our E Waste Recycling event during the month of April. With your help, we were able to prevent 9,404 lbs of carbon emissions from polluting the atmosphere. This is equivalent to saving 361 trees, 1,599 gallons of gasoline, 13,633 plastic bottles, and 62,709 aluminum cans. Thank you for helping strengthen the Subaru Love Promise!
---
April 1-30, 2015 E-Waste Recycling Event - Molly M
Throughout the month of April, we are hosting an E-Waste Recycling Event in our store to collect unwanted electronics. We've arranged to work with a company who will responsibly collect, re-purpose, and recycle your electronic waste. Help us protect our environment. Just show up with your E-Waste and we'll do the rest! The first 50 customers who contribute will receive a complementary environmental badge of ownership. We will accept: LCD Monitors, Cell Phones, Laptops, Tablets, CRT's up to 40", Video Games/Consoles, Fax Machines, DVD/VCR Players, Printers, Computer Peripherals, Switches/Routers, Cords and Wires.
---
Baierl Bears - Terry K
Baierl Subaru provided 20 Baierl Bears to young patients at Children's Hospital of Pittsburgh of UPMC to help brighten their Christmas holidays. There is no greater gift than paying it forward especially when you can make a child smile. Our deepest thanks and gratitude to the wonderful people at Children's Hospital of Pittsburgh of UPMC for finding owners for this year's Baierl Bears.
---